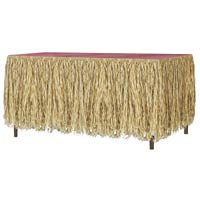 Raffia Table Skirt
Our Raffia Table Skirt is made of natural raffia grass. These grass skirts are great for decorating the buffet table at a Luau or Hawaiian Party. At 108" long, the Raffia Table Skirt is perfect for covering the front and part of the sides of a standard banquet table. Keep in mind that dried raffia grass is very flamable. Our Raffia Table Skirts are treated with flame retardant. Be cautious if your Raffia Table Skirt does not say flame resistant on package.
Enter a larger quantity and save!
Natural Raffia Table Skirts are made from the grass fibers of the Buri plant, a type of palm tree. Most Raffia Table Skirts are made in the Philippines because they have the perfect climate for growing Buri palm trees. Dress up the buffet table at your next Luau or Hawaiian party with a natural Raffia Table Skirt.