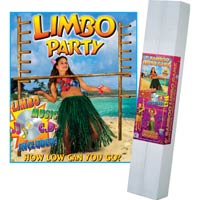 Limbo Kit Set
Our Bamboo Limbo Kit is a complete Limbo Set including all poles and a limbo music CD. The pieces are made of real bamboo with 2 bamboo limbo poles with pegs and a bamboo limbo stick. We recommend that you insert the 2 bamboo poles with pegs into the ground if you're outside or simply place them a pail filled with sand or soil if your Luau is indoors. The pegs on this limbo game have 8 different heights for a great limbo game.
Ground delivery only.

Although a popular game at Luau and Hawaiian parties, the Limbo Dance is not Hawaiian. Webster's Dictionary notes that the Limbo is a West Indian acrobatic dance orginally for men that involves bending over backwards and passing under a horizontal pole lowered slightly for each successive pass. Even so, the Limbo Kit is fun for any Luau or Hawaiian party.