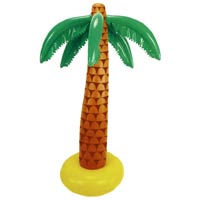 Inflatable Palm Tree
Our Inflatable Palm Tree stands 6' tall and is trimmed with coconuts. Inflatable Palm Trees are great for setting on the deck or patio during your Luau or Hawaiian Party. Keep in mind that this Inflatable Palm Tree is a party decoration and is not designed for extended display.
Ground delivery only.
Enter a larger quantity and save!
Being that the Inflatable Palm Trees are made of plastic, they are not traditional Hawaiian Luau decorations that focus on natural flowers and plants. Even so, they are popular at Luau parties across the country and are even found as decorations in corporate displays. The reason for the popularity of Inflatable Palm Tree lies somewhere between the kitschy feel and simple fun of seeing a palm tree away from the tropics.