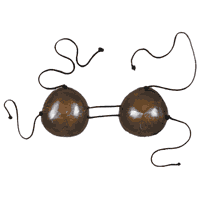 Coconut Bra
The Coconut Bra is made of real coconut shells with braided raffia strings to tie around the neck and the back. Pair a coconut bra with a Grass Hula Skirt to create the traditional outfit for hula dancing at a Hawaiian Luau. Ask your daring friends to join you in wearing Coconut Bras. Keep in mind that the size of coconut shells vary because Coconut Bras are made of real coconuts.
Enter a larger quantity and save!
Coconut Bra in Popular Culture
The Coconut Bra and hula skirt are iconic images of hula dancing and party wear at Hawaiian Luaus. The 1961 movie starring Elvis Presley, Blue Hawaii, featured Hawaiian women wearing Coconut Bras and the television show Hawaii Five - 0 also showed hula dancers wearing Coconut Bras. Share in the fun at your next Hawaiian or Luau Party by wearing a Coconut Bra.