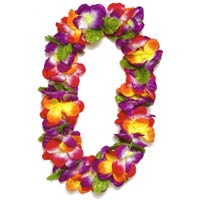 Maui Leis
Our Maui Leis have giant, soft silk flowers around a 36" circle. These silk leis have different color flower petals interwoven with soft green leafs. The Maui Leis are a great choice for a Hawaiian Luau Party.
Enter a larger quantity and save!
The name Maui Leis is often believed to be a particular type of flower. However, Maui Leis simply refers to the location in which the flowers were grown - the island of Maui. Adding to the confusion, the growers often string together different varities of flower petals all grown on Maui into a single leis and calling them Maui Leis.