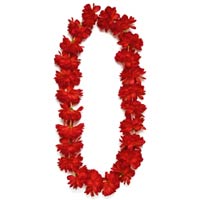 Hibiscus Leis
Our Hibiscus Leis have large silk flower petals laced around a 38" circle. They have soft petals, a nice full appearance and vibrant colors. These Hibiscus Leis are great for special events.
Enter a larger quantity and save!
Hibiscus Leis are a popular image of the Hawaiian Luau, partly because the Hibiscus is the state flower of Hawaii but also because the large, trumpet shaped flowers make beautiful leis. The Red Hibiscus flowers are a very popular choice for making Hibiscus Leis because of the rich, vibrant color of the red flower petals.