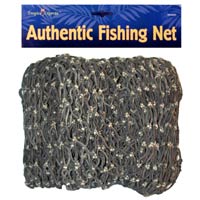 Authentic Fish Net
Each Authentic Fish Net has a slightly different color and shape as they are real fish nets. These are nice decorations to give your party a nautical style.
Enter a larger quantity and save!
The Authentic Fish Net is an important part of the Hawaiian lifestyle. Being surrounded by water, the Hawaiians have sustained themselves with fishing. Fish Nets are an efficient way to catch the seafood. Give your Luau Party a practical Hawaiian style with an Authentic Fish Net.