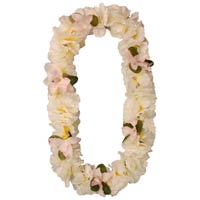 White Orchid Leis
The White Orchid Leis have giant, soft silk flower petals with green accent leaves mixed around a 38" circle. The flower petals are white with a yellow center. These White Orchid Leis are perfect for elegant gatherings such as weddings.
Enter a larger quantity and save!
Orchid Leis are popular Hawaiian Leis because the flowers grow well on the big Island of Hawaii. There are many different varieties Orchid flowers, allowing for the weaving of solid color leis such as the White Orchid Leis.