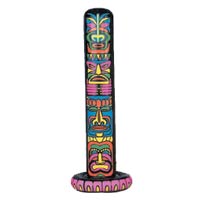 Inflatable Tiki Pole
Our Inflatable Tiki Pole stands 6' tall with a round base. Inflatable Tiki Poles are great for setting on the deck or patio during your Luau or Hawaiian Party. Keep in mind that this Inflatable Tiki Pole is a party decoration and is not designed for extended display.
Being that the Inflatable Tiki Poles are made of plastic, they are not traditional Hawaiian Luau decorations. Even so, the wooden Tiki Poles with carved images of Hawaiian Gods are common at a Hawaiian Luau Party.